The BFF Luggage Tag
A multifunctional physical-digital travel solution for B-Corp MaCher
Timeline
7 weeks (Spring 2023)
Role
Project Manager
Industrial Designer
Researcher
Tools
Figma
Fusion360
Google Workspace
Notion
---
Problem

The luggage tag is a very simple object with a simple purpose: identify bags. How do we simultaneously preserve and elevate this essential function as well as reflect the MaCher brand and sustainability goals? In addition, how can technology enhance and differentiate the product to drive customer engagement and increase perceived value?
Insight

There is an intangible culture surrounding what a luggage tag is or can be for people. It's a chance for a company to impart a sense of belonging to their customers, to make them feel cared for. We also found that dangling tags are easily caught on conveyor belts.
Solution

The BFF– A three-in-one luggage tag that can be worn around a large suitcase as a strap, split into two to fit around smaller luggage, or worn on the body as a crossbody bag or fanny pack. To fit MaCher's sustainability goals, the tag is made from upcycled billboard and uses a pattern which allows the body of the tag to be sewn from just one piece of material.
An NFC chip is sewn into each tag which tethers the tag to a private, geo-tagged photo album which can be shared between traveling friends or family members as they go on their own journeys and add memories to the BFF luggage tag photo album.
---
We kicked off the project with a stakeholder meeting at MaCher's Venice Beach office in California.
MaCher
is a certified B-Corp with a top 1% Platinum rating by EcoVadis. They're a product development company that uses data and academic research to design and manufacture sustainable products which drive human behavior and get brands noticed. They partner with brands to help express who they are, designing thoughtful products and meaningful solutions that get them noticed.
After our meeting with the stakeholder, we got to meet our mentor for the 7-week project, Jamila Jackson. We talked about the core values of the company as well as current design iterations of luggage tags and we discerned several topics of interest. Our main takeaways were to design something sustainable and circular in nature: having a second life of reuse vs. just being biodegradable and eco-friendly.

Over the next seven weeks, brainstorming sessions and discussions with Jamila were invaluable to the creation of our final product, with her eye and knowledge of the field helping us make key decisions, such as our choice to focus on cruise-goers as our primary audience.
---
Observations


We looked into the current state of luggage tags by doing field research, online research, and hunting down our own long-forgotten luggage tags and online research.

Much of our field research was looking at various forms of luggage tags. It was important to see how luggage tags were designed, branded, and sold so that we could take such insights and apply them to our own product.

With our online research, we looked at various public forums for common problems people had with their luggage tags in their current form: one recurring theme was people's luggage tags getting torn off on the baggage claim conveyor belt.

When looking for luggage tags at home it was obvious to us it was a mission of digging them out and dusting them off. Driving home the idea that we need to find a solution to getting them out of the closet and into the day-to-day.
---
Interview

Our team member Maddi was lucky enough to run into two cruise-goers one day and was able to strike up a conversation with them and gather some insights from them. They were about to head on their next cruise: a 10-day excursion around Hawaii serviced by Norwegian Cruises, which happened to be a MaCher partner. They talked about the lanyards they would receive from the cruise lines for their "Sea Pass card" (their room key and credit card aboard the ship) and noted that they didn't care for them. They also spoke in general about the things they carried around on the ship with them, such as phones, credit cards, and sunscreen which helped inform our final designs.
"When you're at sea, you don't need anything other than your Sea Pass card."


– Debbie
"I always end up just putting [the card] in my pocket."

– Sam
---
Insight Matrix & Journey Map
The insight matrix ended up being the foundation of our digital companion. Looking at the intersections of specific insights we had highlighted from our research pinpointed the challenges our product had to overcome, such as accessibility, as well as potential avenues for the digital experience. Again, the insights that were most valuable and inspiring to us had to do with creating something that enhanced the user experience through continued (and eventually, shared) use.
Identifying personas and creating a journey map was essential. It clarified key pain points and pushed us to put more consideration towards the "extend" stage, which is how our product would live after initial use. We wanted our product to be versatile for multiple demographics, so we chose to focus our story on a grandmother and a grandson going on a trip together. It helped us consider the variety of touch points we needed to design for –– such as packaging and instruction –– to make our product as accessible as possible for this wide range of users.
---
The MaCher office generously allowed us to peruse their sample products and materials, and it was during one of these sessions we began to nail down final material ideas. One of the main problems with MaChers luggage tags in their current form is that they are made with recyclable plastic and with time they start to yellow and become unattractive, so we were immediately drawn to the idea of a recycled PET mesh as a nice alternative.
It was also through the expertise of MaCher team members that we were able to grasp the scope of manufacturing costs and capabilities, which drew us away from some materials and towards others. The washable paper was a frontrunner for the main body of the tag for its tactical feel and durability. We also looked into recycled PET and recycled cotton as webbing options.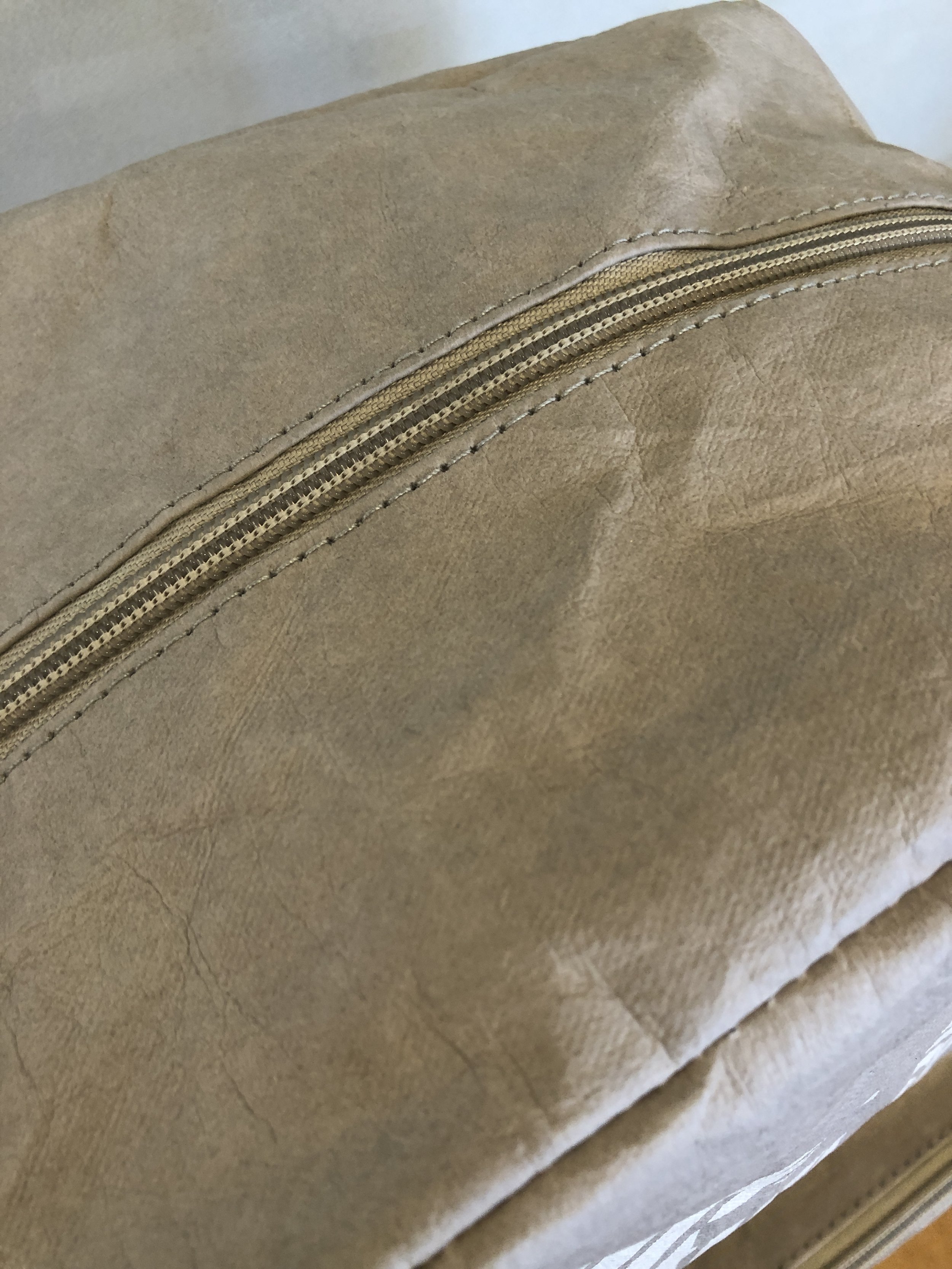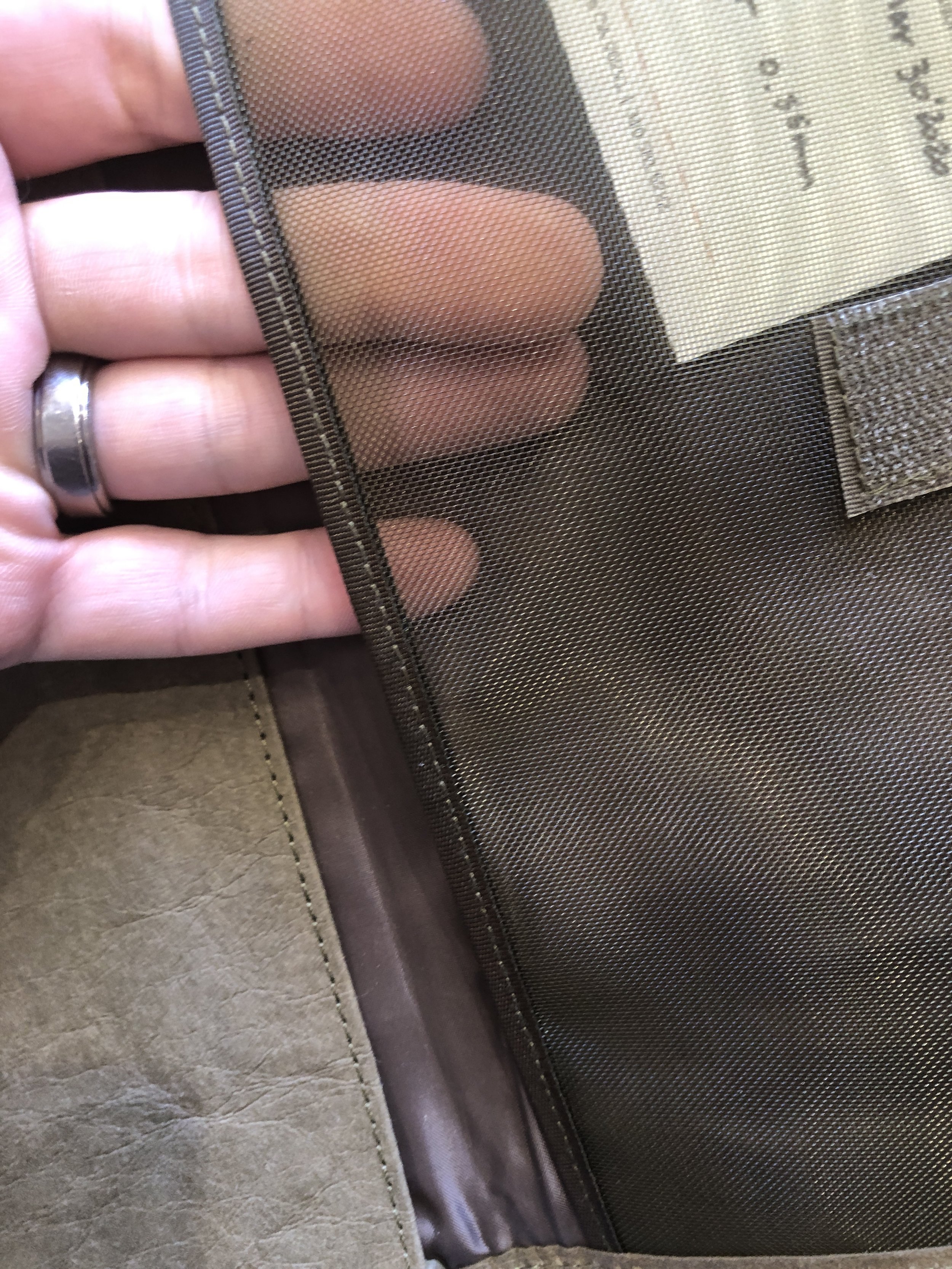 As we continued to work with our materials we found the washable paper proved to be difficult to work with during our prototyping phase. (i.e., it was difficult to turn inside out), so we continued to keep our options open to other choices.
A material that came up in conversation was upcycled billboard. We were inspired by competing products, such as Rareform, and the idea that we would be saving something that would be typically sent right to the landfill fell right in line with Machers' mission of circularity and reuse. The lightness and flexibility of the product while still being very durable was a great alternative to washable paper and was later discovered to be very easy to work with. Also, each tag would be visually unique since each one would be crafted from different parts of the material. If there is a desired print we have the option to print on the opposite side where the material is either black or white.
With those in mind, we were all very intrigued by the prospect of the upcycled billboard as our main building material for our physical product, the luggage tag.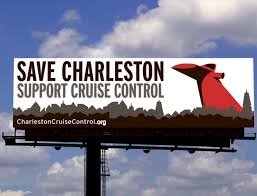 ---
Concept Sketches

Our initial product ideation sketches were broad as we looked into forms that were more traditional for luggage tags, such as ones that hang from the handle and straps. We quickly shied away from the traditional luggage tag and started experimenting with more creative solutions that had the potential for additional functionality beyond luggage identification.

Our mentor Jamila was also drawn to similar items that she felt promoted circularity and reuse: the "bracelet" design by Anna was something she was interested in as an item that could be worn "off luggage."
This concept, "off luggage," was what primarily inspired our final ideation, the BFF: a set of luggage straps that could be used as one piece or two pieces and included a small bag that floated across one of the straps, allowing it to be used as a cross-body bag to store essentials.

When I sketched the initial BFF, our whole team was immediately excited by the idea and jumped on board. Taking into consideration all of our material research, we worked on refining the design and took stock of all the required pieces needed to make it.
---
Low-Fidelity Prototype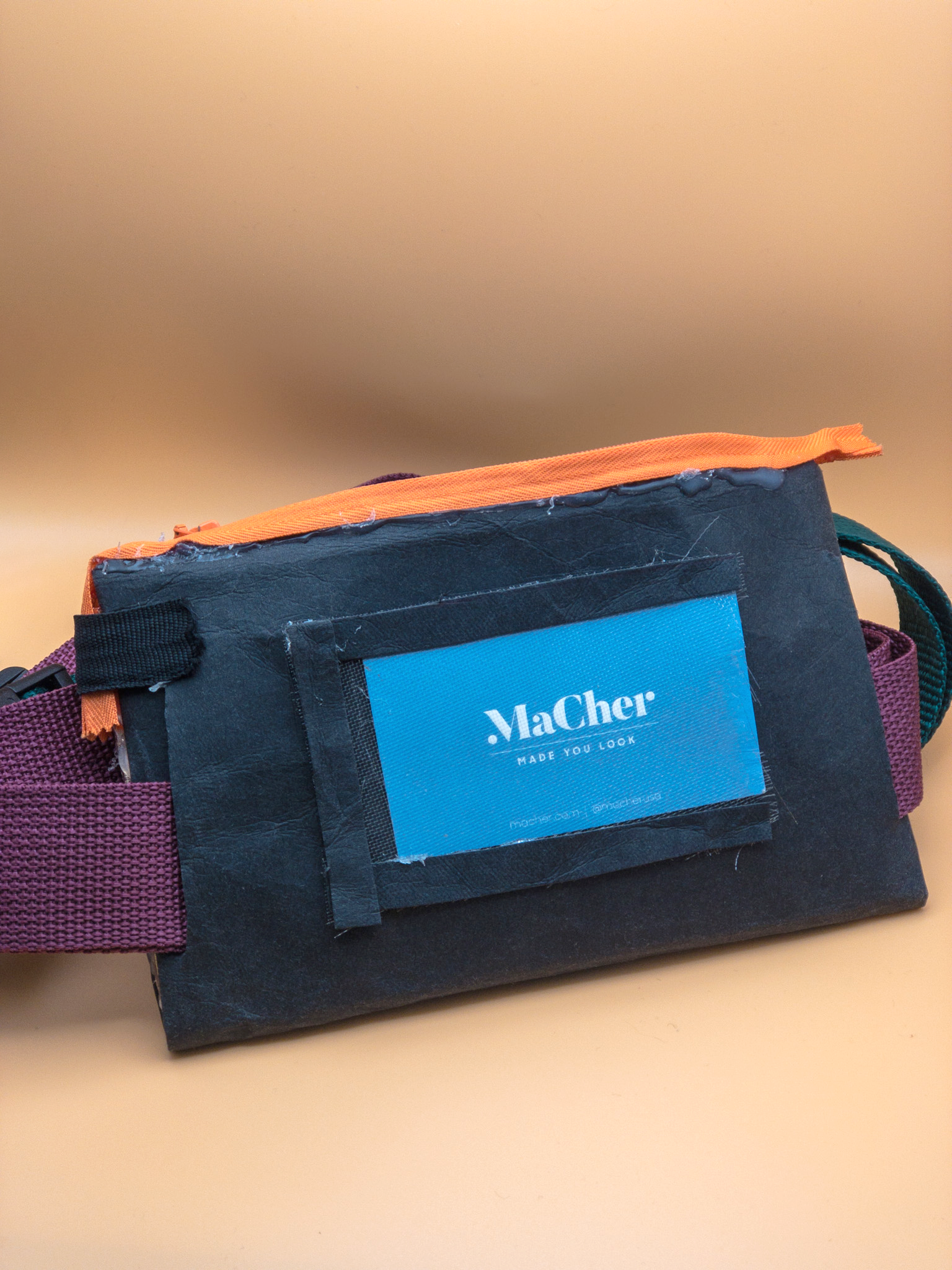 We used the prototyping stage to further experiment with materials and forms for the BFF. Though we were already leaning towards the billboard material, the exercise of making the BFF out of washable paper and faux leather helped rule those options out due to the difficulty of working with them.
We were encouraged by our Product Design professor to try different shapes, but in the end, we stuck to the traditional rectangle, not only because it fit common items most comfortably, but also because it would waste less material during the manufacturing process than an oblong or circular shape.
---
3D Modeling
The 3D modeling stage was useful for deciding on product dimensions as well as creating different design and color iterations for the BFF. Of course, the final design on the bag would not be the MaCher branding but rather one of their partner companies. Still, as designers we wanted to have fun with the design and play with the MaCher colorway.
We all used different 3D modeling software to explore the variety of possibilities they could bring to modeling the item and put the BFF in different scenes to promote its flexibility as a product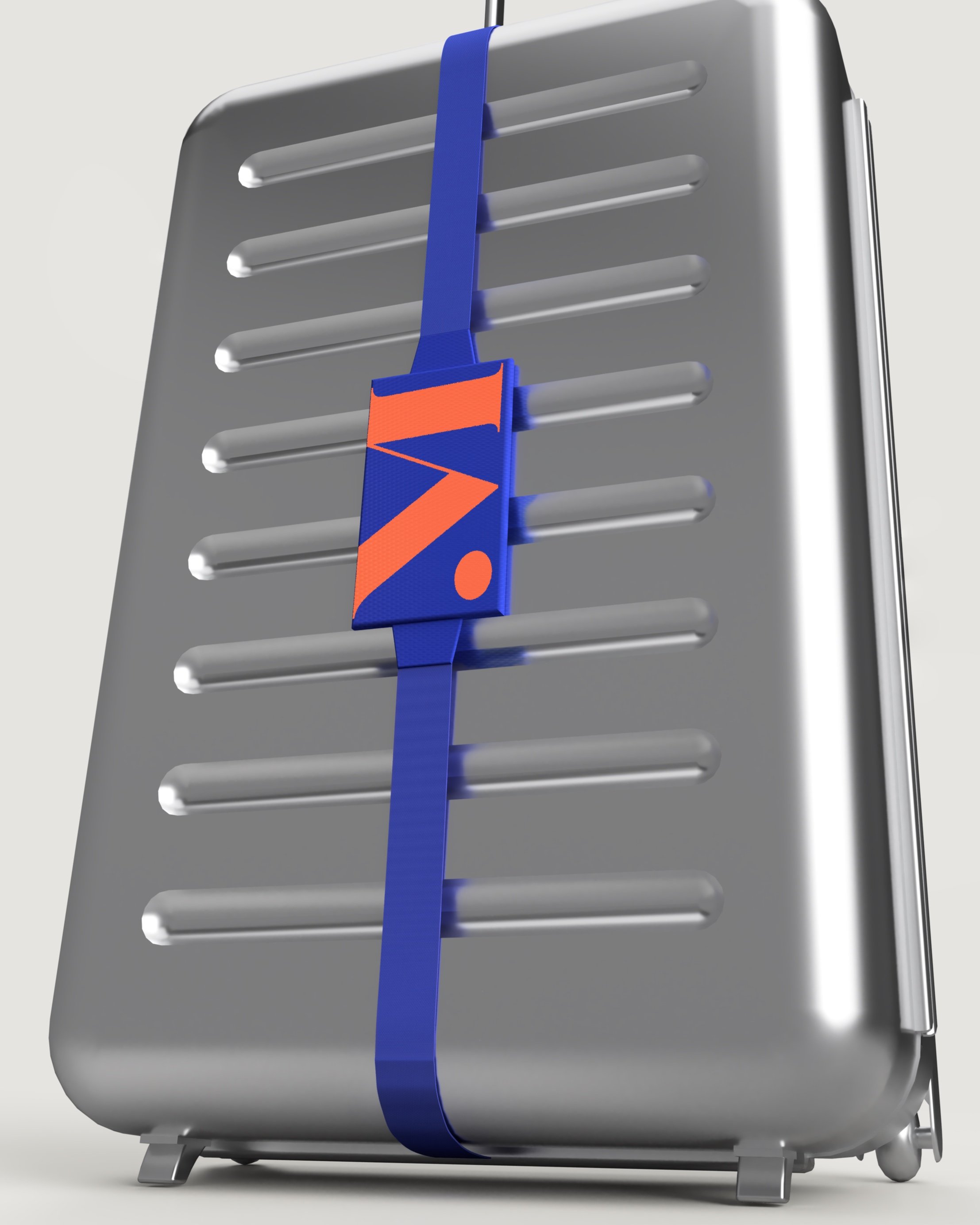 ---
High-Fidelity Prototype
Our high-fidelity prototype was created with a real upcycled billboard which Anna was able to source online.
An interesting detail that came up when first dealing with the billboard is that it came in the mail still dirty and crumpled. This was an interesting insight that cleaning would be a potential labor cost that would go into building these tags.
Another discovery happened when looking for an existing, cost-effective pattern that would work as both a tag and a bag. A "popcorn" pattern uses just one rectangle of fabric to create a bag that can expand to hold larger items as well as flatten out when used as a tag.
---
Concept Sketches

---
Hand Off
Passing the BFF between friends and loved ones would help the digital album to grow from different perspectives and experiences. Users finding themselves in a location that previous users have been would connect them on another level that they might not have had previously.
Album

We wanted the digital album to "live inside" the bag. Each bag would be equipped with its unique album, promoting the sharing of the BFF and ensuring it stays out and about. The content of the bag could be shared on social media and editable via the web browser companion if the bag is no longer in your possession.

Stamps

Stamps were inspired by passport stamps as well as the antiquated hotel stickers that once adorned suitcases to advertise said hotels. These stamps would serve the same purpose but would also give special savings to local businesses where the stamp was acquired and saving with the airline or cruise that you are traveling with.
---
Low-Fidelity Prototype & Heuristic Evaluation
We rendered nearly twenty screens for our low-fidelity version to roughly encompass every feature we wanted the BFF album to have. Our goal was to develop an aesthetic that was reminiscent of a scrapbook while still feeling modern and easy to navigate.
The low-fidelity mockup was well-received by our peers and mentors, with the main criticisms being:
Navigation lacking consistency,




The text size for various elements is too small,




The Scrapbook theme is too strong and needs to be pulled back.
For our final version, we took cues from well-used social media apps and how they structure their navigation to create something seamless from page to page.
---
To complement this multi-use luggage strap, each set is paired with a unique digital album accessible by tapping your phone on an NFC tag. You can add stamps and photos to this album depending on your location, and even unlock special rewards. The photos and stamps are shareable on social media, advertising the brand across platforms.

The most special part about the BFF and something we really want to emphasize is what we call the "hand-off" – where you pass the BFF between friends, or family members, who can then add to the album on their own journeys.

When the BFF is handed off to a new person, the previous user's data is secured and delineated from newer contributions to the album. All that they're able to see of the previous user's data are things that they have knowingly shared: name, selected photos, and stamps of where they've been.

Should previous users want to make a change while they don't have the BFF in their possession, they can still visit the album via a secure companion website that allows them to change their photo captions, and profile information, or remove content altogether.
Users would be able to collect stamps from their travel that resemble stamps you would find in your passports or stickers on hard case luggage. This is a way for users to collect and engage with the brand. Also to continue this tradition in case larger entities start to phase out physical stamps for digital ones.

Rewards will be tied to the stamps to help retain and gain new clients for the brand. Saving would be on local businesses to the locations they are traveling to and saving for the next trip booked with the brand.
---
We feel the BFF is a dynamic product with many use cases outside the realm of cruises, and potentially even outside the travel industry.

The concept of a crossbody bag with a unique digital album has the capability to serve a variety of uses in the professional world as well as the personal.

Looking into the future if this was a product that went into production we would like to look into a couple of things to continue MaChers' sustainability and community goals.
Product creation with client collaboration.
Design and produce a range of items using offcuts, promoting sustainability and reducing waste. Boat tarps, seatbelts from airplanes and buses, and other textures could be sourced directly from businesses promoted by the BFF.
Collaboration with local artists.
Partner with local artists to design unique stamps or branding designs, elevating brand identity and fostering local talent while also boosting community awareness.
Exploration of other materials.
Investigate the use of alternative materials such as pineapple leather and Bio-Dyneema, to diversify the product range and adhere to MaCher's sustainability principles.
Community-based production.
Identify production sites that can provide employment opportunities to disadvantaged communities, thereby alleviating poverty.
---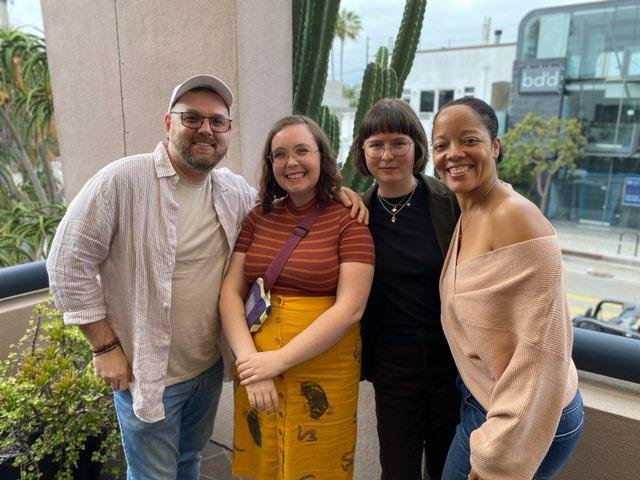 This project was part of a design competition with our classmates and ultimately we came in second place. The winners got the opportunity to actually have their product built out and pitch it to a real client.

That being said, it was really fun to work on a physical product again because while the design process has a lot of similarities between digital and physical there is something really satisfying about building something with your own two hands.

With the digital companion it felt that there wasn't as much of a harmony between the two as I would have liked. The embedded album is such a fun idea to me and it really transforms the tag into wearable tech but I think if we had the time we would have maybe found a way to make the functionality a little more cohesive.