Routed
AR Wayfinding App
Description
AR wayfinding app that focuses on accessibility at the Santa Monica farmers market
Timeline
16 weeks (Fall 2022)
Role
User Research & Interview, User Testing, UX Design
Team
Hunter Moranville, Anna Larionova, Celso Pereira, Kalynn Porter
---
︎

Problem
The Downtown Santa Monica Farmers Market is an abundant, beautiful space to explore. People value organic produce and supporting local businesses. However, upon closer inspection, the market is riddled with hazards to anyone who uses a mobility device. We also found that the crowded market can be an overwhelming experience even for returning visitors.
︎

Insight

During our interviews we discovered that pedestrians feel lost at the large Saturday market and pushed to side-- "...if you were just meandering, like one does, at a farmers market, you're going to get run over." Mobility-impaired users tend to outright avoid places like farmers markets.
︎

Solution
Routed: A stand-alone progressive web app that uses AR guidance along with physical pathways. Routed uses a map of the Downtown Santa Monica Farmers Market created by the market itself to guide visitors to vendors and items, as well as designated safe pathways. By placing signage throughout the market, visitors can quickly find where they need to go without feeling overwhelmed.
Design Challenge
How might we empower mobility-impaired users to engage with the Downtown Santa Monica Farmers Market more comfortably?
Seeing the obstacles


As we thought about who we were designing for, it was important to us to see the market from the perspective of someone using a wheelchair or walker. Each time we visited the market, we looked for and found new obstacles that would be especially hazardous to the mobility-impaired. Vans blocked sidewalks, people were walking in all directions with stuffed totes and strollers, and entrances were irregular and unmarked.






"I felt very intimidated. I felt like I was in the way a lot. I spent a lot of time moving myself out of the way, you know, stepping to the side, but people just kept on rushing up behind me. Everyone was in a hurry trying to get where they were going." - Iirly B.


"You know you have to be a little bit more aware of your surroundings when you're there. Just so you don't bump into someone or something. Also trying to look at all the stalls, all the food as you're walking by trying to figure out what you want to stop for."
- Joe W.

"...There's a lot of bags hitting you, because you're at the same level... I used to drive [my wheelchair] with my hand and there's been spaces that I've been that it's so easy for people to knock my hand over and then for me to drive off in the wrong direction. Just because of a bag or something."
- Ojen S.
Being present



When we began thinking about the browsing experience at any farmers market, we realized that having to look at your phone to know where you're going is missing the point. While AR was a fun way to get around, we had to think of how to preserve the outdoor browsing experience.

"I don't want to just feel like I'm shopping online for groceries."



–– Ojen S.
Getting feedback from our peers
Prototype

We created a digital prototype of the web app and asked our peers to complete a specific task. We encouraged them to think aloud as they completed each step.
People want a distance measurement along with AR guidance.

Our participants wanted to know how far away a vendor was as they navigated using the AR feature. Without it, they seemed to get impatient.
A small reminder to stay present is noticeable and appreciated.

We placed a gentle reminder at the end of our participants' task which garnered a wholesome response.
The Solution

Routed: A browser-based app that combines AR wayfinding with physical pathways. Visitors scan any of the physical signs placed throughout the market to enter a virtual map and search for vendors, items, or accessible pathways.

A mini-map allows visitors to quickly glance at their route if they prefer to put the phone away during their walk. When they arrive to their destination, Routed congratulates them and suggests to take a moment to appreciate their surroundings.
A demonstration of entering AR mode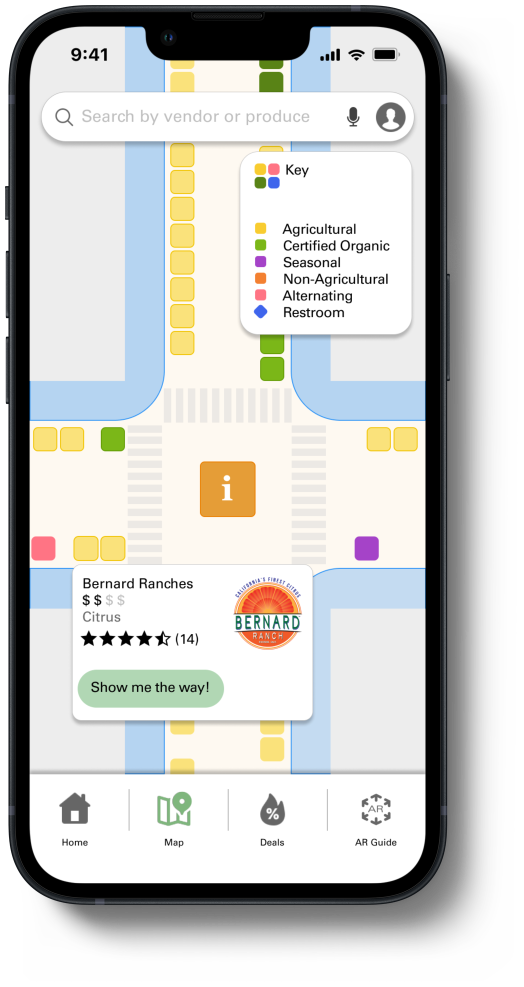 Final screens
Reflections

One of the problems we tried to tackle in this project was how can technology elevate an in-person experience instead of taking away from it. I think this is an enormous challenge all of technology faces today so it was a daunting task. We began to address this by include reminders within the app but, looking forward, I would like to learn more about more innovative and seamless integrations of technology. Ultimately, finding that balance is one of the things that interests me most in designing consumer technology.

A great deal of what I learned during this project was from behind the scenes. Building a healthy team dynamic and time management are skills that can be hard to pin down, so it was truly enlightening to practice these skills with a great group of people in a supportive environment.